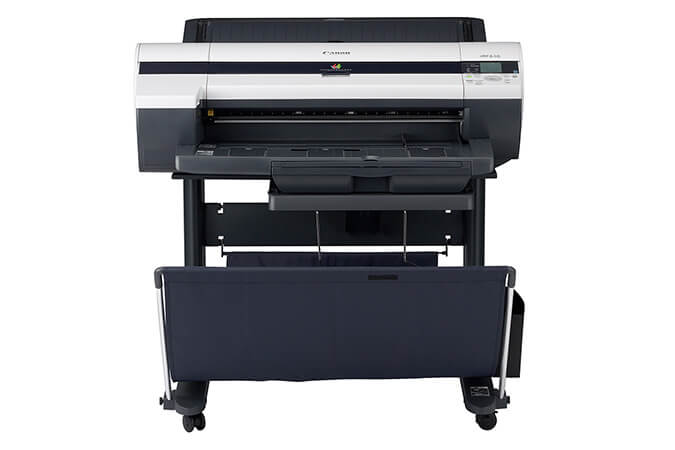 Description
imagePROGRAF iPF610
The Canon imagePROGRAF iPF610 24″ large format printer produces vibrant full-bleed posters, clear text documents and crisp line drawings easily and quickly. Its 24″ output will impress clients and colleagues by communicating visual layouts with eye-catching color and exacting details. The imagePROGRAF iPF610 features a Reactive Ink system consisting of four highly colorfast dye inks – Cyan, Magenta, Yellow and Black – plus two channels of pigment-based matte black.
The new imagePROGRAF iPF610 has a large LCD panel and operates with a reduced amount of noise, which means greater ease of operation and more flexibility in various environments. The iPF610 provides both quality and performance, demanded by today's market with the L-COA controller – the brain of the imagePROGRAF iPF series. The L-COA controller, alongside the 5-color Reactive Ink system, is designed to drive the best quality output at the highest possible speeds. The iPF610 has on-board support for HP-GL/2 and HP RTL files. It prints on a variety of media plus the inclusion of printing/application software programs provides the versatility and flexibility needed to be used in a wide variety of industries and applications, all in one captivating package.
5-Color Dye/Pigment Reactive Ink technology: Consisting of Cyan, Magenta, Yellow, Black dye ink and two channels of pigment Matte Black
HPGL-2 and HP RTL Support
Two Matte Black Ink Tanks: Doubling the matte black is used for maximum black density and speed
Print-Head with FINE technology: Incorporates an ultra high-density 15,360 nozzle print head with ultra small ink drops (4 pl), delivering smooth and beautiful gradations
Multiple Media Options: Four-Way multi-feed enables numerous paper options: roll, cassette, manual front feed and manual top feed
Borderless Printing: Four-sided edge-to-edge printing, only with roll media
Non-firing Detection and Compensation Function: When clogged or non-firing nozzles are detected, the print-head cleaning cycle is automatically executed. If the nozzle remains obstructed, the iPF610 will automatically compensate by re-routing the ink to functioning nozzles
Features
The Reactive ink system consists of four highly colorfast dye color inks and two channels of matte black pigment ink. Doubling the matte black is used for high-speed printing of line drawings and text-oriented office documents. When printing, four of the colors may be applied at the same time, since matte black or black is automatically selected based on the media type selected in the printer driver. Matte black will be used when printing on plain or matte media whereas the dye-based black will be used when printing on coated or glossy paper. The unique reactive ink formulation also provides improved resistance against scratches and marks when compared to conventional dye inks.
Roll Cassette Manual Front Feed Manual Top Feed With the iPF610 all media loading can be accessed from the front of the printer; there is no necessity for the user to go behind the printer in order to load paper. For ease of use, an automatic media switching feature has been added, keeping the workflow speed on par with the printer. Media switching is done within the printer driver and doesn't require the user to physically go to the printer to make a change. Its manual top-feeding design improves performance, while a refined printing sequence delivers accelerated throughput overall. The iPF610 supports a media thickness of up to 1.5mm through the front manual feed.
With the Canon HDI Driver, the driver creates a vector graphical representation of the printed data. Here points are defined and a curved line is calculated mathematically in order to achieve precision. The HDI Driver creates a graphically accurate drawing of the printed data. Pen Assignments and Virtual Pen Exact page size that corresponds with the actual print size Print Type setting Print Quality setting Color Mode setting Brightness slide bar setting Cassette added as media source Black ink print feature Advanced media settings
This Windows® and Macintosh® driver incorporates simplified page setup options, one-touch borderless printing, expanded color settings, and much more into a printer driver that is intuitive and easy to operate, but still gives even the most advanced users the tools needed to stay productive. For Windows users, the free-layout feature enables nesting and custom layouts of images or files of nearly any type. 14 preset document profiles (examples are Poster, CAD, Photo) Automatic print quality options dependent on print application and media Improved preview of Document and Printer settings Borderless printing Scan to Copy – imageRUNNER enlargement copy feature Saturation and Gray adjustment Easy Long Print Input profiles Easy setting/Advanced setting Free-layout feature (PC only) Enhanced profile settings
Engineered for speed and advanced image production, the iPF610 boasts Canon's latest print-head technology to lay down ink with unprecedented speed and accuracy. The iPF610 uses a high-precision, high-density print head with a total of 15,360 nozzles to lay down 4 picoliter-size ink droplets to produce sharp detail and excellent image quality. The superfine 4 picoliter-size droplets produce delicate color gradations and high-definition. The twin lines of nozzles on the print head enable the iPF610 to minimize the number of printing passes and still maintain print quality. More nozzles mean more ink is ejected with every pass of the print head, no matter what print mode or media. It gives new meaning to "high-speed output."
Digital Photo Front-Access has been developed by Canon as a utility to import images from a camera, memory card, USB, etc. and incorporate them into software applications such as PosterArtist and Photoshop. Auto image retouching Ability to open in PosterArtist and Photoshop Support for JPEG images Simple configuration of print settings by means of the printer driver
PosterArtist (Optional Software) – Poster creation software
This template driven software was developed by Canon specifically to create large-format posters easily and quickly. PosterArtist helps users of all levels to create professional-looking posters, banners and signage in four easy steps. This application offers a variety of templates, hi-res royalty-free images and clip-art designed to target a wide array of markets such as food service, education, offices, retail and much more. PosterArtist allows users to use Kyuanos advanced color management system, providing a smart and simple way of managing colors under different viewing conditions. Also included in PosterArtist is the Auto Design feature in which the users can simply designate a few images to be incorporated in a poster, and PosterArtist will automatically create professional-looking posters for immediate use. Additionally, the template filtering feature allows users to find and apply a template quickly and easily from hundreds of templates in the library. Provides professionally designed templates to simplify poster creation Over 1GB of pre-loaded files in a wide variety of poster designs and artwork Variable Data Printing Page Capture feature allows users to load desired data from other applications into a PosterArtist poster, such as Microsoft® Word®, Excel®, and Adobe® Acrobat® Compatible with SVG general-purpose graphics format Security — Restrictions on content use
Energy Star qualified products and practices help you save money and reduce greenhouse emissions by meeting strict energy efficiency guidelines set by the U.S. Environmental Protection Agency and the U.S. Department of Energy.