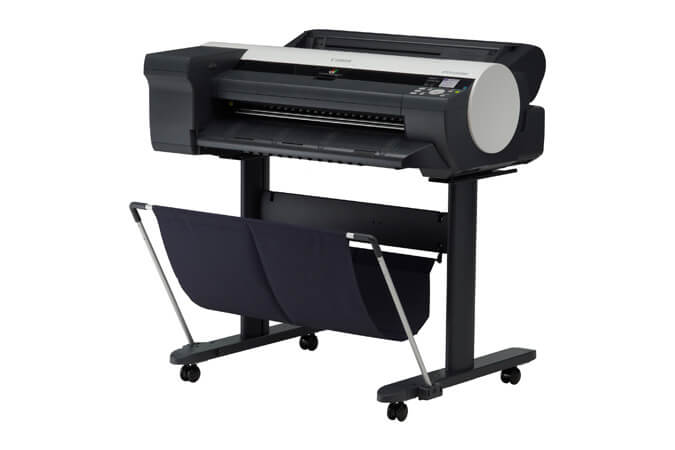 Description
The imagePROGRAF iPF6400SE, 24-inch large format printer is designed for vibrant poster creation in the signage, infographics display, and retail markets while maximizing productivity. The 6-Color LUCIA EX pigment ink set emphasizes the use of red ink, which allows for incredibly vibrant and eye-catching prints to be produced while providing benefits such as scratch resistance. The printer includes a color profile that's designed specifically for poster creation to maximize use of the LUCIA EX ink system's strengths in color reproduction, and helps to produce a wide color gamut that is in some cases comparable to what's seen on 8-Color devices. The compact design of the iPF6400SE allows for the printer to be placed in small offices and stores where space is not a luxury. The iPF6400SE printer also features an economy printing mode that reduces ink consumption by about 50% compared to standard mode to help cut down on printing costs. The printer supports ink tank sizes of 130ml and 300ml to enhance productivity, and has a Sub-ink tank system that keeps ink in reserve to allow for tanks to be changed without interrupting a print.
To expand poster printing options and capabilities, the iPF6400SE printer comes bundled with a free copy of Canon's PosterArtist Lite software, which enables easy poster creation in just four steps. PosterArtist Lite comes with an image correction function that enables a user to automatically correct their image colors, as well as cut out selected areas of an image, right from within the software. The printer comes standard with additional applications and utilities that help make the printing process extremely user friendly such as; an Accounting Manager tool that helps keep track of job costs, a Print Plug-in for Microsoft Office, and Direct Print and Share, Canon's cloud-based portal solution. To improve versatility, the iPF6400SE printer has a Media Configuration Tool which allows customers to not only utilize existing Canon-branded media, but also with non-Canon branded media. By expanding on Canon's innovative and technological achievements, the imagePROGRAF iPF6400SE printer helps achieve consistently eye-popping customer-friendly prints.
Features
6-Color LUCIA EX Ink Set
The new 6-color pigment ink system adds Red ink to the standard lineup of Cyan, Magenta, Yellow, Black, and Matte Black, to help produce posters, infographics and POP materials with vibrant color. This helps create output that's suitable for small retail stores, restaurants, or service businesses that produce their own in-store posters on the premises.
Compact Design
The compact design of the iPF6400SE printer reduces the space required for installation, making this model especially attractive for small stores or offices.
Optimal Printing for Posters
A color profile is included that's designed specifically for posters to make full use of the LUCIA EX ink system's strengths in color reproduction. The user simply selects "Poster" as the print target in the printer driver, to achieve vibrant color reproduction optimized for poster printing. The same profile is also provided in PosterArtist (optional), PosterArtist Lite, and the Print Plug-In for Office.
Large Ink Tank Capacity
The iPF6400SE printer supports ink tank sizes of both 130ml and 300ml in capacity. Ink tank replacement becomes less frequent and users with higher printing volumes can enjoy greater productivity.
Sub-ink Tank System
An ink tank system designed for uninterrupted printing even during tank replacement. The iPF6400SE printer keeps ink in reserve in its sub ink tanks so that even when the tanks themselves run out of ink, printing can continue without interruption and the tanks can be replaced on the fly.
Fast Draft Printing Mode
The Draft Mode produces 1200 x 1200 dpi output at up to 562ft2/hr on coated and uncoated paper stocks while reducing ink consumption by 10% to 20% versus standard mode.
Economy Printing
Significantly reduce total ink consumption by utilizing the Economy Printing Mode for producing draft prints on select media. This feature increases overall speed and regulates the use of all colors to produce quick check plots while minimizing the cost per print. In this mode, overall color density is reduced to cut ink consumption by up to 50% compared to Standard mode, and ink consumption is cut by up to 15% when compared to the 8-Color S series of imagePROGRAF printers.
Thermal Print Head System for High Speed Printing
Engineered for speed and advanced image production, the iPF6400SE printer boasts Canon's thermal print head technology that helps lay down ink with incredible speed and accuracy. This printer uses a high-precision, high-density print head with a total of 15,360 nozzles. The twin lines of nozzles for each color on the print head enables the printer to minimize the number of printing passes and still maintain print quality. The 1-inch PF series print head boasts all 6 colors with 2,560 nozzles per color. More nozzles mean more ink is ejected with every pass of the print head, no matter what print mode or media.
PosterArtist Lite
Canon's included PosterArtist Lite poster creation software gives users the ability to quickly and easily create professional large format prints. Users simply follow the program's four (4) easy steps to create posters that can be used in applications such as Office presentation, Trade shows, Retail Signage, and much, much more. The PosterArtist QuickCopy feature provides an easy solution for a CanoScan desktop scanner to be used as a copier, making letter-size flyers and documents into full-size posters with a touch of a button. New enhancements include an image correction function that automatically corrects image colors, and a cut-out function that allows users to remove selected areas of an image.
Direct Print & Share Cloud Portal Software
Canon's Direct Print & Share software is a cloud portal solution that helps users to expand their printing workflow. Users are given the ability to upload documents to their own account using Google's cloud service, and have those documents printed from almost anywhere††. Easily share or print PDFs, TIFFs and JPEGs through the user-friendly interface, and even have the ability to do batch printing!
Accounting Manager
Tracks up to twenty (20) jobs and shows how much ink and media is being consumed when printing. Costs can be assigned to ink and paper to determine expenses based on "Cost of goods". The user can also input a variable cost that will be added to the total of the print cost. The data is exportable to a .csv format for Microsoft Excel so the data can be used for billing purposes.
Features include:
Job Cost (ink, Media and variable cost inputted by user)
Ink Consumed per Job*
Media Consumed per Job
Job Completion time
And more
*Ink usage is estimate, and error tolerance is ±15% 
Media Configuration Tool
Recognizing the expanding array of media options for large format printers and to further improve the versatility of these new imagePROGRAF models, Canon has included its Media Configuration Tool, which allows customers to not only utilize Canon-branded media, but provides the ability to make adjustments to printer settings to enhance the precision and quality of output achieved with non Canon branded media.
Settings that can be configured using media parameter adjustment features include:
Media weight and thickness
Ink drying
Automatic cutting settings
Borderless printing
Paper feed amount
Print-head height
Vacuum strength
Maximum ink usage
Print Plug in for Microsoft Office
This utility makes it easy to print large-format documents created in Microsoft Word, Excel, or PowerPoint software applications. The Plug-in appears in a tool bar inside the Microsoft application and has an easy-to-follow "Wizard". The Plug-in will bypass the printer driver to simplify the printing process. A few simple steps convert your 8.5″ x 11″ office document to poster size.
PosterArtist (Optional)
For those with more demanding poster creation needs, Canon's optional PosterArtist offers advanced features such as Auto Design, Variable Data, and in-application image editing features, as well as additional templates, royalty-free photos, and clip art. The built-in weblink feature in PosterArtist Lite links users directly to the PosterArtist website for useful hints and tips, and  even more free contents for download. Visit www.usa.canon.com/posterartist for a free demo version to download.