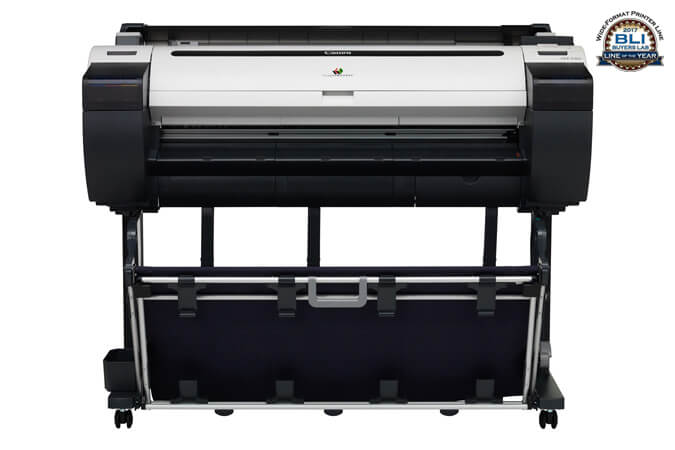 Description
Overview
The imagePROGRAF iPF6450, 24-inch large format printer was designed for professionals in the graphic, fine art, photography and proofing markets that seek the highest possible standards for quality-control and image reproduction. An incredibly large color spectrum is produced by the 12-Color LUCIA EX pigment ink set, which also provides better scratch resistance and smoother gradations. The new Multi-sensor included with this printer provides improved color density detection and allows for a full calibration to be completed within 15 minutes, with the ability to use non-Canon branded media. A new Color Calibration Management System allows for color calibration targets to be created using the iPF6450 with optional spectrophotometer and shared across all new iPFX400 12-color printers, and the included software allows for all printers on the network to be monitored from one central location. The printer supports ink tank sizes of 130ml and for the first time, 300ml, and the new sub-ink tank keeps some ink in reserve to allow for tanks to be changed without interrupting a print. In the printer's highest print mode, the order of ink application and layering is optimized to maintain the highest print quality with fewer passes, making this mode twice as fast compared to previous models. The iPF6450 is also equipped with a large 250GB hard drive, geared to increase productivity in high volume printing and streamlined workflows, while allowing for faster processing of large files as well as the ability to reprint jobs directly from the printer.
As an optional add-on to the iPF6450, the SU-21 Spectrophotometer features a scan speed of 10 inches per second and can accommodate media of different thicknesses (Canon or non-Canon branded) thanks to the mobile carriage the device is placed on, which attaches right onto the front of the printer. The device also includes a user-switchable UV blocking filter that can be switched on and off according to paper type, eliminating the need to purchase individual sensors.
To expand printing options and capabilities, the iPF6450 printer comes bundled with a Print Plug-in for Adobe Photoshop, Digital Photo Professional, and Microsoft Office. The enhanced Print Plug-in for Adobe Photoshop includes a new Adjustment Pattern Setting which allows for multiples of an image to be printed at once with different color values implemented and displayed. Gallery wraps for canvas prints can now be created using the new Gallery Wrap Feature. To improve versatility, the iPF6450 has a media configuration tool which allows customers to not only utilize existing Canon-branded media, but also with third party media. Designed for efficiency, reliability, and above all quality, the iPF6450 is the professional's answer to superior quality large format prints.
Features
Canon's LUCIA EX Ink set is designed for dramatic photographic expression and detailed color reproduction for exacting proofing applications. This 12-Color ink set offers a brilliant range of vibrant colors, smooth gradations and transitions, with incredibly fine details. This specially formulated ink also offers better scratch resistance, superb black reproduction and exceptional color stability compared to its predecessor. Combined with the printer's technologies, the LUCIA EX inks have the ability to satisfy the demanding needs of the Photographic, Fine Art, Proofing and Graphics professionals.
The LUCIA EX Ink system excels in reproducing colors in the blue, red, purple, yellow and green spectral ranges, providing an exceptionally large color gamut. Vibrant, rich colors with unsurpassed detail and crisp, clean monotone images make this ink set essential for incredible photo quality output.
Optional SU-21 Spectrophotometer
As an optional add-on to the iPF6450 printer, the spectrophotometer is essential for anyone who is looking for efficiency in the proofing industry. This easy to install solution attaches right onto the front of the iPF6450 printer and brings superb image quality that you?d expect from a Canon imagePROGRAF printer to the next level.
The Spectrophotometer device includes:
A fully automated mobile carriage for the sensor, allowing for media of different thicknesses to be loaded and used with this device.
Unique to Canon?s device is a specialized single piece backing plate that has both black and white stripes on it and is user switchable!
User-switchable UV blocking filter that can be switched on and off according to paper type; no need to purchase individual sensors to respond to each paper type.
Scan Speed of 10 inches per second.
The ability to generate color calibration charts is possible for 3rd Party Media, allowing users to expand their workflow options.
2010 XRGA measurement standard compliance.
Color Calibration Management System
The Color Calibration Management Console is included for the centralized management of networked printers in a system from one easy to use software tool. This unique feature enables color calibration targets created using the iPF6450 printer with optional spectrophotometer to be linked across the entire line of new 12 color imagePROGRAF devices. A printer's administrator can monitor and manage each printer in a remote location. Linking color calibration targets among multiple printers allows color calibration for custom media to be performed on printers not equipped with a Spectrophotometer Unit.
This new printer includes an upgraded, built-in color densitometer that's designed to offer even more precise calibration and color matching. Using a three-color LED and a newly developed condenser lens the sensor enables accurate recalibration of the device, allowing users to maintain a low average printer-to-printer color difference. Automatic color calibration is finished quickly after a few simple steps on the printer's operation panel. A single color calibration performed with one type of media can be applied to media in all printing modes.
High Speed Printing with Fewer Passes
In highest print mode, the order of ink application and layering is optimized to maintain the highest print quality with fewer passes, making this mode twice as fast compared to previous models. In high and standard print modes, print density within a single pass of the heads is optimized to reduce unevenness and support fewer passes as well.
The new tint and tone controls over the four monochromatic shades allow a user to create even more expressive blacks with smoother gradations – especially in dark areas. Found in both the Printer Driver and Print Plug-in for Adobe Photoshop, the new tone control in the monochrome photo mode includes adjustments for:
Soft Tone
Middle Tone
Medium Hard Tone
Hard Tone
Strong Hard Tone
A tint control has also been added to the Print Plug-in for Photoshop. This new option gives users the ability to affect the white space on an image. By adding monochromatic ink to an images' white space, the user can improve gloss control in a black and white image, allowing them greater control on how their final printed output will appear.
The iPF6450 supports 130 ml ink tank sizes, and offers an option for large 300 ml ink tanks. Ink tank replacement becomes less frequent and users with higher printing volumes can enjoy greater productivity.
An ink tank system designed for uninterrupted printing even during tank replacement that has already been featured on the current 44 and 60 inch models, is now available on a 24 inch, 12-Color printer for the first time. The iPF6450 keeps some ink in reserve in its sub ink tanks so that even when the tanks themselves run out of ink, printing can continue without interruption and the tanks can be replaced on the fly.
A built-in 250GB hard drive within the printer increases productivity by relieving workload from the host PC, while providing a large capacity for print job data storage and retrieval. This 250GB hard drive enables job data to be stored in protected mailboxes for easy access via web browser or at the printer for job re-printing. The embedded hard disk is ideal for medium to large workgroups to share a printer efficiently with multiple users, offering sample job storage space. To ensure security of your files, there are is a quick erase mode, high-speed mode, and a secure erase mode which meets to U.S. Department of Defense requirements (DoD5022.22-M Compliant) for erasure of disk media.
Fast data transfer will help exceptionally high measures of productivity.
Enhanced Print Plug-in for Adobe Photoshop
This export module allows 16-bit image processing, preserving the expanded color spectrum and high gradation of the file. The Print plug-in also reduces the possibility of incorrect settings, by providing an integrated interface for print settings in Photoshop and the printer driver, enabling efficient production.
The new Adjustment Pattern Setting feature allows for multiples of an image to be printed with different color settings in order to choose the color that most closely matches what you need.
The following new or enhanced features are provided in the Print Plug-In for Photoshop:
Adjustment Pattern Setting
Adobe CMM support
Proof printing support
Support for commercial profile creation tools
This new creative tool can be accessed via Adobe Photoshop and allows users to easily create gallery wrap prints for framing, as well as creative options that will expand output possibilities.
Crop Marks: These lines are a guide for folding the paper for mounting.
Edge Lines: The area outside these lines is the area that gets folded around to the back of the canvas. (Not actually displayed or printed) .
Blue Lines: The area within these lines is the area that appears on the front surface of the canvas when mounted. (not actually printed) .
Canvas Thickness: This area becomes the sides of the canvas when mounted. .
Amount of Extension: This is the region that is printed protruding excessively in order to prevent white areas appearing on the sides of the canvas.
You can choose the effect you would like on the canvas that would be wrapped on the frame.
Image: Wraps the image to the canvas sides.
Soft Image: Performs Gaussian filtering on the image on the canvas sides.
Reflection: Reflects the image on the canvas sides.
Soft Reflection: Reflects the image on the canvas sides and performs Gaussian filtering.
White, Black or Color Makes the canvas sides white, Black or a custom color.
Recognizing the expanding array of media options for large format printers and to further improve the versatility of these new imagePROGRAF models, Canon has developed a Media Configuration Tool, which allows customers to not only utilize Canon-branded media, but provides the ability to make adjustments to printer settings to enhance the precision and quality of output achieved with third party media.
Settings that can be configured using media parameter adjustment features include:
Media weight and thickness
Ink drying
Automatic cutting settings
Borderless printing
Paper feed amount
Print-head height
Vacuum strength
Maximum ink usage
Print Plug in for Digital Photo Professional
This export module allow users to directly process and print RAW image files from DPP This plug-in bypasses the operating system's dependent print driver, allowing processing of 16-bit RGB images directly, which dramatically increases gradations and as a result, overall image quality.
Features:
Full screen preview
More print quality selections
Categorized paper type view
Roll paper layout view
Bi-cubic enlargement
Tracks how much ink and media is being consumed when printing. Costs can be assigned to ink and paper to determine expenses based on "Cost of goods". The user can also input a variable cost that will be added to the total of the print cost. The data is exportable to a .csv format for Microsoft Excel so the data can be used for billing purposes.
Features include:
Job Cost (ink, Media and variable cost inputted by user)
Ink Consumed per Job*
Media Consumed per Job
Job Completion time
And more
*Ink usage is estimate, and error tolerance is ±15%
Print Plug in for Microsoft Office
This utility makes it easy to print large-format documents created in Microsoft Word, Excel, or PowerPoint. The Plug-in appears in a tool bar inside the Microsoft application and has an easy-to-follow "Wizard". The Plug-in will bypass the printer driver to simplify the printing process. A few simple steps convert your 8.5″ x 11″ office document to poster size.
Canon's included PosterArtist Lite poster creation software gives users the ability to quickly and easily create professional large format prints. Users simply follow the program's four (4) easy steps to create posters that can be used in applications such as Office presentation, Trade shows, Retail Signage, and much, much more. The PosterArtist QuickCopy feature provides an easy solution for a CanoScan desktop scanner to be used as a copier, making letter-size flyers and documents into full-size posters with a touch of a button.
Visit www.usa.canon.com/posterartist for a free demo version to download.
For those with more demanding poster creation needs, Canon's optional PosterArtist offers advanced features such as Auto Design, Variable Data, and in-application image editing features, as well as additional templates, royalty-free photos, and clip art. The built-in weblink feature in PosterArtist Lite links users directly to the PosterArtist website for useful hints and tips, and even more free contents for download