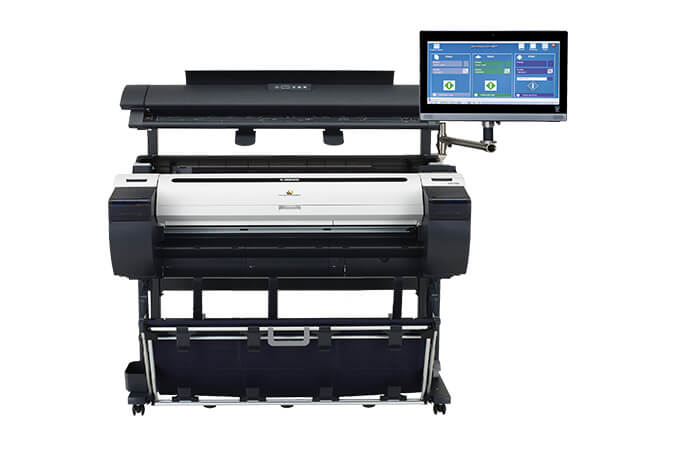 Description
The Canon imagePROGRAF iPF780 MFP M40 is a large format imaging system that is designed to be a complete Scan-to-Print, File, and Share solution. The system includes animagePROGRAF iPF780 large format printer, M40 large format scanner, MFP stand, All-in-One HD multi-touch PC, SmartWorks MFP software6. This solution provides a fast and effective system for printing, copying, archiving and distributing maps, drawings, renderings, site and facilities management plans, design and layout proofs, posters and more.
This Multi-Function Product's advanced M40 scanner adds versatility to the product capabilities with the ability to scan documents up to 2mm thick, allowing users to scan more than just technical documents. The scanner has the ability to scan documents up to 315″ in length as a PDF or JPEG file, and up to 590″ in length as a TIFF file. The SmartWorks MFP software simplifies the entire Scan-to-Print, File, and Share process for users of all experience levels. Available as a free download, the iPF785 MFP M40 also offers Canon's Direct Print & Share software1, a cloud-portal software solution that enables the viewing, sharing and printing of files from anywhere in the world, a new shortcut print button for drag and drop printing through hot folder technology, and is compatible with almost any cloud server that's WebDAV compliant. The solution is also equipped for mobile printing through use of the imagePROGRAF Print Utility app for iPad, available as a free download on the App Store
The versatile Canon imagePROGRAF iPF780 36-inch large format 5-color printer is designed for use by professionals in a variety of different markets including Computer-Aided Design (CAD); Architecture, Engineering, and Construction (AEC); Geographical Information System (GIS) and other technical document professional areas to produce large technical documents or posters in color. The included software utilities can be used in a variety of industries and applications such as in the retail signage industry as well as general office environments. The iPF780 MFP M40 provides the versatility and flexibility needed to be used in a wide variety of industries and applications, all in one captivating package.
Features
Complete Scan-to-Print/File/Share Solution:
The iPF780 MFP M40 is an affordable solution for providing fast, high-quality, large format image capture-to-output. Designed to be more than just its parts, it is the versatility of the product that makes it stand out. This multi-component system gives the user the opportunity to be more productive. The open architecture of the stand alone computer can be used to load additional programs, among other things. The printer's ability to print on a wide variety of media lends itself to uses in many departments and applications as well.
A versatile system built for the way you work, the imagePROGRAF iPF MFP M40 includes:
M40 Scanner
iPF780 36-inch printer
SmartWorks MFP software
All-in-One HD multi-touch PC
MFP stand
M40 Scanner
The M40 scanner incorporates a SingleSensor assembly technology, which helps provide consistent and better color accuracy with more detail in the shadows and highlights than a staggered CIS array scanner
Features:
1200 dpi optical resolution, 9600 dpi maximum resolution
Image scanning of up to 40″ wide, fits documents 42″ wide
Scans documents up to 315? (26 ft) in length as a JPEG or PDF file,and up to 590? (49 ft) in length as a TIFF file
Scanning speed of up to 13 inches per second monochrome, 3 inches per second color
USB 3.0 interface, 75 Mbytes / sec transfer rate
Scan documents up to 2.0 mm thick
Face up / Front load / Rear exit
Straight paper path
The M40 scanner contains a single component image sensor that is the full width of the scanner and has long life LED Bi-directional illumination. Full width image capture, as opposed to time delayed scanning of separate sections, means less risk of misalignment of scan data. LED's require virtually no warm up time and provide a wide and consistent color gamut, with low power consumption and there is less potential for shadowing at creases or folds. A single driven hold up roller provides even pressure across the scan width which means originals are less susceptible to folds or creases.
SmartWorks MFP Softwaare:
SmartWorks MFP gives you the tools you'll need to quickly and easily scan to print / file / share large format technical documents. With a simple to use interface and unique scan-it-once ability, SmartWorks MFP allows for efficient batch scanning and helps create quality scanned images that are produced in a short amount of time. Scan to PDF, TIFF and JPEG file formats. SmartWorks MFP software is now more efficient than ever before.
Scan lengths of up to 315″ (26 ft) for PDF and JPG files, and up to 590″ (49 ft) for TIFF files
Ability to add custom presets with one-touch retrieval for those often-used settings
New image enhancements for white point adjust, black point adjust, sharpen, mirror, and invert
Full integration with Canon Digital Print & Share cloud software
Users have more control over their workflow with access to editing functions such as invert, mirror, and black and white point adjustments. Custom presets help users control the scanner and increase control over printer settings.
SmartWorks MFP Plus Software
Available as an optional add-on to SmartWorks MFP, this software includes many additional features to help enhance your multi-function workflow. Added features include:
Scan to multipage PDF and PDF/A
Ability to open and print non SmartWorks MFP PDF files (through Direct Print & Share)
RGB Color Adjustment capabilities in preview mode
Auto crop feature that removes printer margins from a scan to create a true 1:1 ratio
Direct Print & Share Cloud Portal Software:
Canon's Direct Print & Share software is a cloud portal solution that helps users to expand their printing workflow. Users are given the ability to upload documents to their own account using any WebDAV compliant cloud service, and have those documents printed from almost anywhere. Available as a free download, this software allows users to easily share a variety of file types and print PDFs, TIFFs, JPEGs, and HP-GL/2 files through the user-friendly interface, and even have the ability to do batch printing! In addition to these features, users can set-up hot folders on their desktop for easy shortcut printing, by being able to simply drag and drop the files they wish to print into these folders and see the job spool automatically. Users can set up multiple folders each with their own customized settings, allowing for multiple jobs to be run with ease.
iPF780 36-inch Large Format Printer:
Designed for technical and office applications, Canon's 5—color dye/pigment Reactive Ink technology utilizes four highly colorfast dye inks for producing bold, expressive color, plus two channels of black ink for printing precise lines, smooth curves, and small text on technical and office documents. A newly formulated Magenta ink helps produce crisp and vibrant red lines and texts, while also widening the color gamut in the red and orange spectrums. The iPF780 printer is capable of producing an Arch D (24″ x 36″) print in up to 21 seconds using Economy mode, and an Arch E (33.1″ x 46.8″) print in up to 41 seconds! Help reduce total ink consumption by utilizing the Economy Print Mode for producing draft prints on select media, which regulates the use of all inks to produce quick check plots while minimizing the cost per print. The iPF780 printer has the capability of accommodating 300ml ink tanks, geared towards lowering the cost per print, in addition to the traditional 130ml ink tanks. The iPF780 printer comes with a Flat Stacker/Basket; the integrated stacker basket provides the capability to neatly stack up to twenty 24 x 36 inch plain paper prints. The stacker basket can be configured as a regular basket, a small stacker and a larger flat-positioned basket.
All-in-One HD Multi-Touch PC:
A 19.5-inch flat panel multi-touch PC monitor is included in the system, helping to make it easy for the user to view accurate previews. This simple-to-use touch screen makes one-button scanning/copying easier than ever, and the embedded USB ports provide a user with easy access.
MFP Stand:
The scanner stand connects directly to the printer stand to create a one piece structure and to reduce the total footprint of the iPF MFP system. The stand gives the user the flexibility to use an ?all in one? configuration or to set up an independent scanner stand. The user can choose whether to place the monitor on the right or left side of the stand, as well as whether to use a straight or swing—arm orientation. When the monitor is set up using a swing-arm orientation, it can be positioned in two different heights. This single stand design eliminates the need to move the printer and scanner piece by piece when setting up or relocating the MFP.
imagePROGRAF Print Utility:
imagePROGRAF Print Utility is Canon's mobile app for wireless printing via an Apple© iPad© to an imagePROGRAF printer. Through use of the app, users have the ability to preview their PDF file, utilize some of the great basic settings seen in their Canon Printer Driver such as selecting the number of copies, paper orientation, and quality, and then send their print to one of the imagePROGRAF 5-Color Printers sharing the same network. imagePROGRAF Print Utility is available for download free of charge through the iTunes App Store.
Accounting Manager:
Automatically tracks how much ink and media is being consumed when printing. Costs can be assigned to ink and paper to determine expenses based on "Cost of goods". The user can also input a variable cost that will be added to the total of the print cost. The data is exportable to a .csv format for Microsoft Excel so the data can be used for billing purposes.
Captured data includes:
Job Cost (ink, Media and variable cost inputted by user)
Ink Consumed per Job*
Media Consumed per Job
Job Completion time
And more
*Ink usage is estimated, and error tolerance is ±15%
Canon Printer Driver:
These Windows® and Macintosh® drivers incorporate simplified page setup options, one-touch borderless printing, expanded color settings, and much more into a printer driver that is intuitive and easy-to-operate while still giving even the most advanced users the tools needed to stay productive.
The Real Preview feature helps ensure that the print setting and the layout on the roll paper is correct by providing real time preview, allowing users to change the print setting even after clicking "print." The Free Layout feature enables nesting and custom layouts of images or files of various types (available for both Windows® and Macintosh® drivers).
The imageRUNNER Enlargement Copy feature built-in to the printer driver lets users transfer data from their Color imageRUNNER device with Universal Send to the imagePROGRAF printer – all with the touch of a button – enabling users to easily create posters from hard copy documents.
At a Glance:
Easy-to-use preset document profiles (examples are Poster, CAD, Photo)
Automatic print quality options dependent on print application and media
Real Preview that lets users change document and printer settings after clicking "print"
Page nesting feature with Free Layout for Windows® and Macintosh®
imageRUNNER Enlargement Copy feature – with a hot folder solution to print Color imageRUNNER PDFs directly
Economy Print Mode
Borderless printing
Easy setting/Advanced setting
Optimized module for AutoCAD
PosterArtist Lite:
Canon's included PosterArtist Lite poster creation software helps users quickly and easily create professional large format posters. Users simply follow the program's four (4) easy steps to create posters that can be used in applications such as office presentations, trade shows, retail signage, and much, much more. The program includes pre—designed templates suited for a wide variety of markets, as well as royalty free images and clip art. The PosterArtist QuickCopy feature provides an easy solution for a CanoScan desktop scanner to be used as a copier, making letter-size flyers and documents into full-size posters with a touch of a button.
PosterArtist:
For those with more demanding poster creation needs, Canon's optional PosterArtist offers advanced features such as Auto Design, Variable Data, and in—application image editing features, as well as additional templates, royalty-free photos, and clip art. The built-in weblink feature in PosterArtist Lite links users directly to the PosterArtist website for useful hints and tips, and for even more free content for download.
New features include:
Direct Print & Share cloud portal support
New file format to allow for easy sharing of poster files
Visit   www.usa.canon.com/posterartist   for a free demo version to download.
Print Plug-in for Microsoft Office:
This utility makes it easy to print large—format documents created in Microsoft Word, Excel, orPowerPoint. The Plug-in appears in a tool bar inside the Microsoft application and has an easy-to-follow "Wizard". The Plug-in will bypass the printer driver to simplify the printing process. A few simple steps convert your 8.5″ x 11″ office document to poster size.