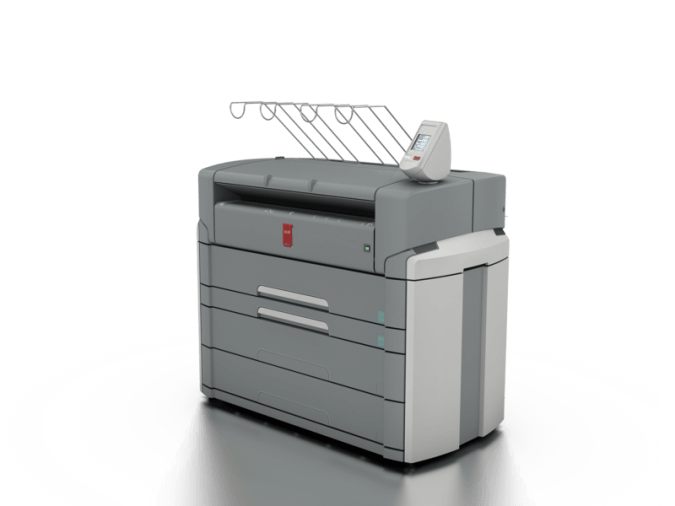 Description
Proven technology for productive black and white large format printing
The Océ PlotWave 750 is a mid-volume black and white large format printer that can enable you to exceed the limits of your devices' capabilities. The Océ PlotWave 750 wide format printing system helps you meet the complex document challenges faced in a departmental print setting or a productive, central print room environment. Gain the edge for your business. Print more flexibly. Protect vital data more securely. Produce documents faster and manage print jobs more easily. Let the Océ PlotWave 750 black and white large format system take your document capabilities to new heights
Features
Key Product Highlights
9 D-size drawings per minute print speed
Advanced networking, security, and usability options
Maximum input capacity – up to 6 media rolls for over 10,000 sq. ft. of uninterrupted printing
One-step scan/copy, color copy capability and scanner presets for common settings
Eco-design – lowest energy usage, noise level, and ozone emission in its class
Advanced Networking and Security
Many decisions in the technical world are made on site, and documents need to be updated and produced in flexible ways. Océ PlotWave 750 black and white printer users can now use Océ Mobile WebTools or Océ Publisher Express to capture changes and documents anytime, anywhere. Or, print via Océ Publisher Select software to product documents for complex projects. These new networking capabilities are supported by stringent security measures. The Windows® Embedded Standard 7 controller guarantees you adhere to the latest IT standards. You also have security features such as antivirus support, HTTPS or even IPsec.
Fast and Productive Wide Format Printing
Meet short deadlines and work efficiently with the instant-on performance of Océ Radiant Fusing technology. Get over 27 D-size prints, before other conventional wide format printers have started printing. Consistently turn out 9 D-size prints per minute, even with mixed sizes. With up to 6 media rolls, the Océ Double Decker Stacker and built-in cutters, you can print and stack up to 3,444 feet of output without interruption. Scan and copy as-builts, color markup and other technical documents in one quick and easy step for immediate archiving and distribution.
Ease of Use
The Océ PlotWave 750 printing system makes it easy for you to get great results. Everything from media roll placement and toner loading to print job management has been carefully designed to be ergonomic and intuitive. The Green Button approach to large format scanning offers great quality output at the touch of a button. Get results right the first time with no need for troubleshooting. Thanks to low noise and heat emission, the Océ PlotWave 750 wide format printing system can be comfortably placed in a departmental environment.